Parish Priest
Carlo Manché
A Catholic priest who lived a holy life in the spirit of the Gospel, a life of complete service to God manifested in fellow human beings.
Born on 22 September 1905 in Valletta, the capital city of the small Mediterranean island of Malta, Reverend Carlo Manché was ordained priest on his twenty-third birthday. He was appointed parish priest of Gżira at thirty years of age and continued to serve in that capacity for fifteen years. On 18 November 1950 the life of the much-loved parish priest was cut short at the tender age of forty-five after suffering an attack of thrombosis some time before his death.
The impressive photos of his funeral included in the Photo Gallery taken in front of the Gżira Parish Church and along the Gżira seafront show some of the thousands of parishioners and people from all walks of life, who thronged the streets of Gżira for the funeral cortège to get a final glimpse of the open coffin. They were paying their last respects to a great man and expressing their deep love, respect and admiration for this unique servant of God who had touched their lives with such intensity.
In his book When Malta Stood Alone (1940-1943), Joseph Micallef noted the 'hands on' leading role that Fr Carlo Manché played in the construction of rock shelters to protect his parishioners from the enemy's attacks. The demand for rock shelters in Malta had increased with the advent of German bombing raids in January 1941, particularly following the attack on the aircraft carrier HMS Illustrious. Volunteer organisations had sprung up everywhere: men, women and even children all gave a hand to construct shelters.
He wrote:
Probably the first organized group was at Gżira. On 20 January 1941 the Gżira-Msida District Committee got volunteers together. Men who had never done any work with pick and shovel, and working in relays, started digging into the rock to provide protection to the people of the district. The first neo-miners were the Rev. Manché, D.D. the Gżira Parish Priest, and Dr A.F. Colombo M.D.
Eyewitness reports of an episode during the war, when Parish Priest Manché was summoned to assist a family in his parish, whose house in Stuart Street had just been destroyed by a bomb, illustrate his courageous hands-on leadership. One of the victims who died in the explosion was a pregnant woman. In those extreme circumstances, Fr Manché attempted to perform a Caesarean with a knife to save her unborn baby's life but, sadly, without success, as the baby died with the woman.
In an article titled Fr Carlo Manché – Gżira's saintly parish priest published on timesofmalta.com on 11 November 2012, a prominent Maltese priest who founded the Cana Movement in Malta in the mid-fifties, Mgr Charles Vella quoted a passage from Professor Henry Frendo's book Europe And Empire: Culture, Politics and Identity in Malta and the Mediterranean, that highlights the bravery of Fr Carlo Manché during the Second World War:
Parish Priest Manché helped his people not only with prayer, but with courageous action in aid of the victims and of his flock, who were fleeing from Gżira to various safer villages in the island. Fr Manché worked night and day, while like a true general he did not abandon the parish. He helped the homeless, the injured and sought food for the people, even serving in the commensal Victory Kitchens.
In his article, Mgr Charles Vella, wrote:
This is the life of a Good Shepherd, whom I always loved since my late teens. As I was born and baptised in Gżira I used to go to him to collect my birth certificate. He always welcomed me warmly (though I did not like the smell of the pipe). He once told me: "You are going to be the first priest from Gżira. Do come here when you are ordained." God's will led me elsewhere.

I think that Gżira, as it has done in the past, should revive the memory of Fr Carlo Manchè. Marble slabs alone do not tell the story, but we need to hear and pray more to Fr Carlo. Lately I met his nephews, Dr Loris Manchè and Judge Albert Manchè, and I again fell in love with this 'giant' of the Maltese clergy.

Had the Church carried out an in-depth study of the heroic virtues of this saintly priest soon after he died, he would by now have been declared a Servant of God.
In recent years there has been a renewed interest in the life and deeds of Fr Carlo Manché in the Parish of Gżira and elsewhere.
The purpose of this website is to make the information known about Fr Carlo Manché available to anyone who may be interested in knowing more about him and his life and advancing the case for his sainthood.
~~~~~~~~~~~~
A book about Parish Priest Carlo Manché in Maltese edited by prominent broadcaster Tony Micallef was published in November 2022. With a tagline of Fi Kliem Niesu (In the words of his people) the book consists of biographical information and statements about Fr Manché by many people who knew him well, including family members, Gżira parishioners and others. It is available for sale online from BDL Books.
Parish Priest Carlo Manché – "A Great Christian" By Mons. Prof. Arturo Bonnici Biography published in 1975 on the 25th anniversary of the death of Rev Carlo Manché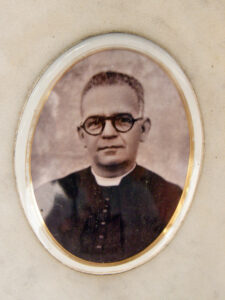 On the 50th Anniversary of the death of Rev Carlo Manché By Rev. Alfred Manché Homily delivered at Gżira on 17 November 2000